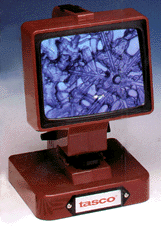 The famous Tasco "Big Screen" microscope is an unique
learning tool that gives kids the big picture of a microscopic
world. It works in two ways:

1. Kids can view objects up to 450 times larger than the
specimen itself through a pull-up eyepiece like a conventional
microscope.

2. Unconventionally, this microscope features a 7 inch screen
that displays a projected image up to 3200 times larger than
it can be seen with the naked eye. Great for individual viewing
but even better for a group of friends or parent/teacher & child.


A truly wonderful teaching tool. It includes an assortment of discovery tools to start kids experimenting right away: 3 blank, deep well slides, 2 cover slips, 24 slide stickers, specimens of wool, leaf, feather, and nylon. One each of tweezers, eyedropper, scalpel, spatula, and small spoon.