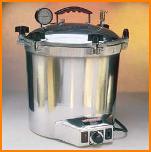 Autoclave, Electric Automatic Steroclave.
A complete self-contained Sterilizer with an immersion heating element, automatic thermostatic control, automatic release valve and pilot light.
Connects to any outlet, ready for use instantly. Insures complete, efficient Sterilization. Automatic in operation, controlled by Fenwal Thermostat, metal-to-metal (no rubber gaskets). Large capacity, 831 cubic inches.
100 watt heater, 110V operation.